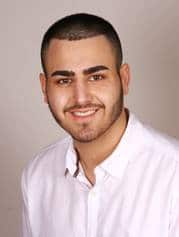 We are happy to welcome our new employee Mohammed Yousef to be allowed to introduce.
Since January 1st, 2020 Mohammed Yousef is part of our team. The 25-year-old is a trained industrial mechanic and graduates on the side studies as a technician specializing in mechanical engineering.
Mohammed Yousef actively supports us with the installation of the machines and soon also on assembly and customer support.